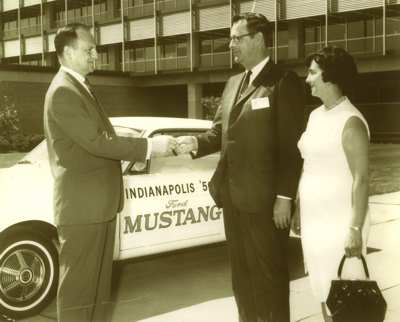 Robert Gagne started working at a Ford dealership in 1948 in Thiensville, Wi. which is a small town located about 15 miles north of Milwaukee. He worked as a parts and service manager and then as a salesman, then sales manager, general manager and eventually purchased the business.  The dealerships name was called Schmit Ford Mercury. Robert was the president of that store for approximately 25 years until 1990.
Robert's son Dan started working at Schmit Ford in 1969.  Dan worked his way through nearly every position from car washer, auto tech, heavy truck tech, parts department, service advisor and as a service manager for 15 years until finally purchasing the Ford dealership in Princeton, Wisconsin in 1989.
Dan applied the same guiding principles to his dealership that he learned from his years at Schmidt Ford...Maintain Real Personal Relationships and Promote Family Values.
The early 1990's were a period of rapid expansion for Gagne Ford, tripling the size of the original lot in just 5 years. The new space allowed Gagne Ford to increase the size of their inventory and allow customers expanded selection and choice.  A state of the art body shop was then added to provide extensive repair and restoration services. The body shop has a downdraft paint booth and a frame machine capable of doing frames and unibody work on any make or model of car, light duty truck or heavy duty truck. If it can fit on the rack our frame machine can pull it straight.
Dan's son's have gradually worked their way into (and through) the Ford dealership the same way he worked his way through his father's dealership. Jake Gagne started in 1992 and pretty much has worked in all departments, cleaning vehicles, parts department, service manager and finally his current position in the sales department. Jake has taken many Ford classes and has achieved Ford Motor Company Master Salesman's certification. This is no easy undertaking, it takes several hundred ours to achieve this status. Adam Gagne has also cleaned cars and worked in the parts department. After attending college Adam decided to work with us in the sales department.  Adam has also achieved the Ford Motor Company Master Salesman's certification status. Tyler Gagne entered the family business after attending college for auto body and truck repair and has achieved certifications in almost all areas of body repairs. He is now the manager of the body shop.
When you are purchasing a vehicle from us you are actually dealing with one of the owners.  From start to finish you will be dealing with the same person. From purchasing the vehicle to financing your purchase and finally taking delivery.  No games with 5 different people trying to confuse you to the point that you just want to get out of the dealership. Many times the same person you purchased the car from will be the same person to actually do the clean up prior to you taking delivery of your new or used vehicle.
In this day and age it is definitely a rarity to have a family owned and operated auto dealership, but that is exactly what you get when you come to Gagne Ford.  "You will be dealing with an owner. We promise to treat you like an owner".  Family values and family treatment that you can really only get from a family owned and operated business.